To support you to start 2021 well with the habit of journaling we are offering a special price of $50 ($30 for members) until the end of February 2021. AFCNA members login here to the Members' Area of the AFCNA website for your 40% discount link. If you'd like to become an AFCNA member click here and scroll to the bottom of the page to sign up as a member.
Do you want an easy and cheap way to lower your stress, manage your emotions, problem solve and improve your health? Learn how to journal.
At the end of my marriage, as a single parent to young children I was awash with many difficult emotions and facing problems I needed to sort through but I was without much in the way of resources to be able to deal with them. The only time I had to myself was very late at night when most of my friends were on their way to bed and therefore not able to be a sounding board for me. Even if they were, I doubt they would have wanted to hear the same story over and over again as I process my grief and frustrations.
Then I remembered a habit developed during my teenage years that I had neglected the busyness of parenting: journaling.
Journaling is good for you
Journaling has many benefits and purposes. Journaling can help you reduce your stress levels by reducing the intensity of your emotions as you release them on paper. Journaling can help you to clarify your thoughts and feelings, helping you with problem solving and identifying understanding issues. It captures your story. As you reread entries it may help you identify patterns in your thoughts and behaviour that you can seek help for leading to long-term change and growth. Self-care is both a purpose for journaling and a benefit from it.
As a Christian journaling promotes reflection – an important tool in ministry practice, but has the important benefit of listening and possibly capturing what God is saying to you. You can also journal as a tool to meditate on the Bible.
Listen the video below of my experience with journaling and how I began teaching it in live workshops back 2011(listen rather than watch as the picture is a bit delayed at the start)
Your Instructor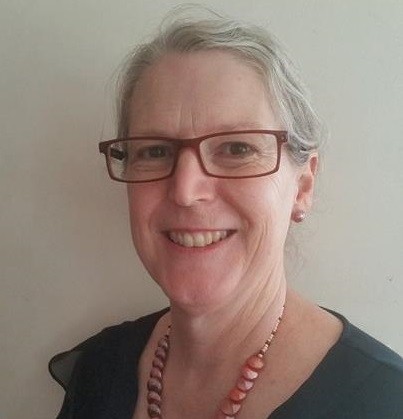 Vicky is passionate to see others living an abundant life of purpose with a sense of wellbeing. She is a Registered Nurse with additional qualifications in Chronic Condition Management, a qualified Trainer and Assessor with experience training pastoral care workers, and founded His Heart Ministry Training. Along the way she authored 'New Life in the Mourning - hope when the relationship ends' and co-authored 'My Life! Health Living Journal'. Vicky has suffered burn out losing ministry and employment. She has journeyed to restore balance and now lives a productive, hope filled healthy life, albeit with a chronic condition. She teaches from a combination of practical experience and extensive knowledge. She is prone to tripping over words and objects!
Feedback from participants can be summed up in the statement from a participant:
'a great balance between facts, practical and personal perspectives /experiences'
Other participants said the least liked part of the workshop was that it finished!
Now I've taken my workshop, updated it and created an online version with the bonus of an additional session for writers. The advantage of doing the course online is you have more time to practice different types of journalling and you hear from some other experts who have contributed to the course.
The course contains spiritual and Christian concepts.
Course Curriculum
Introduction
Available in days
days after you enroll
Session 1 The theory
Available in days
days after you enroll
Session 2 Types of Journaling
Available in days
days after you enroll
In Session 2: Types of journaling award winning poet Valerie Volk shares about journaling through poetry and reads 2 poems giving examples of different types of journaling through poetry and the benefits of them.
In Session 4: Writing and journaling Sally Graham, award winning author of 'As black from white' shares her experience of writing her book. She says, 'A great story doesn't necessarily translate to a great read' so gives advice on how to use your journal in writing your autobiography. She talks about the heart and intent of her book, the practicalities of using journals including how they can set the writing in time and help plan the book, emotions, defamation, and the use of public knowledge.
Journaling is good for you
Life-lines Standard course includes
Video access
Workbook
Additional resources
Bonus Writing and journaling session
Frequently Asked Questions
When does the course start?
The course starts now! It is a completely self-paced online course - you decide when you start and how you work through the material.
How long do I have access to the course?
After enrolling, you have unlimited access to this course - across any and all devices you own. If there is any change to this e.g. we apply an end date, we will give you 3 months notice (provided you opt in for us to email you), giving you plenty of time to finish the course.
I keep a journal already. Will I learn anything else?
There are many different types of journaling. It can be fun to try others. The course can help you develop the routine of journaling and inspire you to journal more when you learn the benefits.
What if I am unhappy with the course?
We would never want you to be unhappy! If you are unsatisfied with your purchase, contact us in the first 30 days and we will give you a full refund.